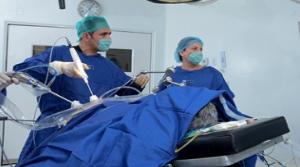 Dr. Daniel Huacuz graduated from the University of Michoacan with a focus in medicine. Dr. Daniel Huacuz is a member of the ASMBS (American Society of Bariatric and Metabolic Surgery), the IFSO, Medical Association of Endoscopic Surgeons, and other professional certifications.
For the past 15 years, Dr. Huacuz has remained compassionate about obesity surgery, having been the former leader of gastric banding surgery (lap-band in Mexico) since 2003 to 2009. Since the emergence of the vertical sleeve gastrectomy, Dr. Huacuz has been a practitioner of the best practices for the VSG in Mexico. Learn more about Dr. Haucuz's credentials below.
Testimonials
Dr. Daniel Huacuz Guizar is very professional, knows the material and helps you in the best way to solve your health problems. I work for myself and my husband, and we have had excellent results. I recommend it a lot."
About Gastric Sleeve Surgery
Gastric Sleeve Surgery is a restrictive procedure with aims at reducing obesity by reducing the stomach's space and capacity. This reduction will make you feel fuller quicker, helping you consume fewer calories. The second component of the gastric sleeve surgery is the reduction in the hunger hormone Grehelin. This reduction helps to produce less hungry in patients. This two-component bariatric surgeon makes the gastric sleeve on the best weight-loss surgeries practiced today.
Other Surgeries Performed
Laparoscopic Bariatric Surgery (surgery for the treatment of obesity), Gastrointestinal Metabolic surgery(metabolic diseases and conditions often associated with severe obesity, non-alcoholic fatty liver disease, hypertension, obstructive sleep apnea and high cholesterol), Laparoscopic Hernia Surgery, Laparoscopic Gastrointestinal Surgery (esophagus, stomach, colon and intestine), Duodenal Switch procedure,  Gastric Bypass Surgery.
Further Related Links: